Wimsey Cove Framing and Art
is a locally owned and operated quality custom residential and corporate art frame gallery that specializes in shadow boxes, conservation framing, specialized printing and historical maps of cities and states. Wimsey Cove Framing & Art, the go-to fine framing store, has developed a reputation for framing everything from large oval ceiling pieces to conservation framing for fragile textiles. As Elizabeth Ramirez often says, "we enjoy the challenge of ensuring that the customer's art, photographs, needlework, watercolors, sports memorabilia, antique prints or whatever is protected as well as being appropriately displayed. Every piece is special."
Wimsey Cove is located in Edgewater, South Anne Arundel County MD just 2/10ths of a mile south of Mayo Road across from the old Giant Food just south of Annapolis, Maryland.
Local Maryland artists and photographers have limited edition prints on display at Wimsey Cove to purchase and frame.
About Us

The owner, Elizabeth Ramirez, a watercolor artist, has 20 years in the picture frame industry as well as a B.A. in Studio Art and a minor in Photography, from Rivier College in New Hampshire. Elizabeth has also taught arts and crafts in summer camps and given short courses in various framing techniques.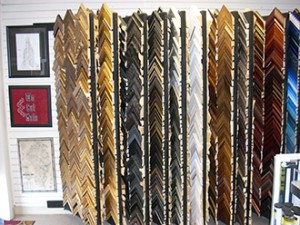 She strives to provide a friendly, family-oriented shop where we can work together to find the art and/or frames that fit your décor while focusing on fine art, original photography, original etchings, and reproductions of historic maps and prints.
Our friendly staff consists of highly educated artists and designers, with extensive knowledge of fine art, crafts and materials.
We carry a diverse selection of frames and mats to suit any home or office décor and utilize the latest framing techniques and styles. We will suggest the best ways to protect and enhance your artwork.
         

Wizard Computerized Mat Cutting – Almost any shape you would like can be cut.
Come in to see how! We can cut mats while you wait.
Art, Photo, and Memorabilia Framing Services
                                                      
Full Service custom framing with fast turn around. Wide selection of mats, frames, glass, and various mountings including:
Needlework
Canvas Paintings
Diplomas
Prints
Awards
Medals
Wedding Memorabilia
Photos
Children's Works
Mirrors
Shrink Wrap
Drymounting
Box Mounting
Round & Oval Frames
Wizard Computerized Mat Cutting – Almost any shape you would like can be cut come in to see how!
                                                          
Conservation Framing (helps prevent the artwork from fading)
UV clear glass
UV Reflection Control glass
Museum Glass
Acid-Free, Lignin Free & 100% Cotton Rag Mat Board
Conservation hinges (to attach the artwork to the Archival backing board)
Archival backing board
Archival paper (for back of the frame)
Shadow Boxes
Object Mounting
Flags
Jerseys & T-Shirts
Christening Gowns
Sports Memorabilia
Any Shape You Desire

Historic Maps  
As of January 1, 2015, Wimsey Cove Maps & Art, formerly located in West Annapolis, has moved to Wimsey Cove Framing & Art.  The entire inventory of historical maps and bird's eye views and related giftware is available at the new location.
Wimsey Cove Maps & Art was a "pop-up" store before such things were thought of.  Maps were first offered ten years ago at various street fairs and bazaars, including First Sunday on West Street, Oktoberfest in West Annapolis, and at meetings and conferences, including Archaeology Day at the Maryland Historical Trust. From July to December 2011, Maps & Art was located in the Market House on City Dock in Annapolis.  In the spring of 2013, we opened the store in West Annapolis and continued being a vendor at many Maryland events. This time, we have moved the map business back into its parent store, Wimsey Cove Framing & Art, while we look for new opportunities to "pop-up."  Please come visit us.
Historic Maps
Urban City Plan Maps
Reproduction Historical Maps
State District Maps (i.e. First District of Anne Arundel County is Edgewater, Davidsonville, and Birdsville Areas from 1878)
Bird's Eye Views of Cities and States (i.e. Bird's Eye View of Annapolis from 1864)

Click here to see our digital map collection. 
We Ship Nationwide – Call for Details after clicking to see our digital map collection.
Let Us Frame, Protect and Display your Wedding Memories
Special Wedding Offer—we will:
Frame any Photos for you and as gifts for family and friends
Arrange many photos into one framed piece in a collage or with multiple mat openings
Frame the wedding invitation including brides bouquet and favors
Preserve your honeymoon photos and souvenirs
Coordinate frame styles to harmonize your display area or wall
To ensure that your treasures will be there for all your anniversaries, we use conservation mating, high quality frames and conservation glass.
A – Packages Custom Frame of Bride and Groom
B – Package A plus mat with multiple openings up to 6 and frame
C – Package A plus Shadow Box Frame of invitation, Bouquet, and favor
D – Your selection of frames and shadowboxes
Frame not to exceed 16" x 20" Shadowbox not to exceed 16" x 20" x 4"
Additional Charge for larger sizes
All orders are custom • Call for Appointment and or Details of Packages
FAQs
About Our Picture Framing Services:
We frame diplomas & certificates
We mount and frame needlework, textiles & memorabilia
We use conservation mats & glass to protect your art
We mat & frame work for exhibits
We have eco-friendly frames, round & oval frames
We do shadow boxes, dry and box mounting
We have custom mirrors
We have special pricing for K-12 artists
We do framing demonstrations for classes & clubs
We have the largest frames and mats collection
Discounts
Military Discounts
Senior discounts (50+)
We beat or meet our competitors' pricing
Bulk & Corporate Pricing available
The next time you need art, photos or memorabilia framed, shadow boxed, or displayed,
call 410-956-7278 or email us first!
• Same Day or Next Day Service Available •
Interactive Frame Studio
Wimsey Cove Framing
 Wimsey Cove Framing & Art and Wimsey Cove Maps & Art are both actively involved in these organizations:
Wimsey Cove Framing and Art proudly serves the following communities in Anne Arundel County MD:
Annapolis, Annapolis Junction, Arnold, Brooklyn, BWI Airport, Churchton, Crofton, Crownsville, Curtis Bay, Davidsonville, Deale, Dunkirk, Eastport, Edgewater, Fort Meade, Friendship, Galesville, Gambrills, Gibson Island, Glen Burnie, Hanover, Harmons, Harwood, Jessup, Laurel, Linthicum Heights, Lothian, Mayo, Millersville, Naval Academy, North Beach, Odenton, Owings, Pasadena, Riva, Shady Side, Severn, Severna Park, Sherwood Forest, Tracys Landing, and West River.